Latest News
---
September 22
Sanders Show Goats Buck & Doe sale
We will have a select set of show quality doe kids that will be eligible for the Lone Star Elite show and also the new Wether Doe show at San Antonio in 2016. We will also have 2 wether sire prospects!


---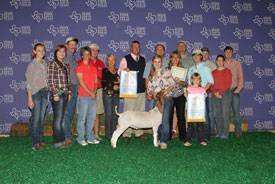 Grand Champion market goat
2013 State Fair of Texas
Congratulations Brittany Sanders!
Welcome to the Sanders Show Goats web site. Our family has been raising show quality goats since 1985. By 1995 we achieved a major status in the Angora Goat industry, winning numerous awards including Champion and Reserve Champion Billy at the TAGRA in Rocksprings, Texas.
In 1998 our foucus turned to the meat goat industry. By the 2000 breeding season we were using fullblood Boer bucks from Kohl's genetics. 2001 was our first year to sell wethers for show, and one year later we had become a competitive breeder.
Our breeding philosophy has been to flush a select group of does each year to produce a limited number of outstanding animals. Please take a look around our site as we continue to update it, and if you are in the Hill Country your always welcome to stop by and see our facilities.